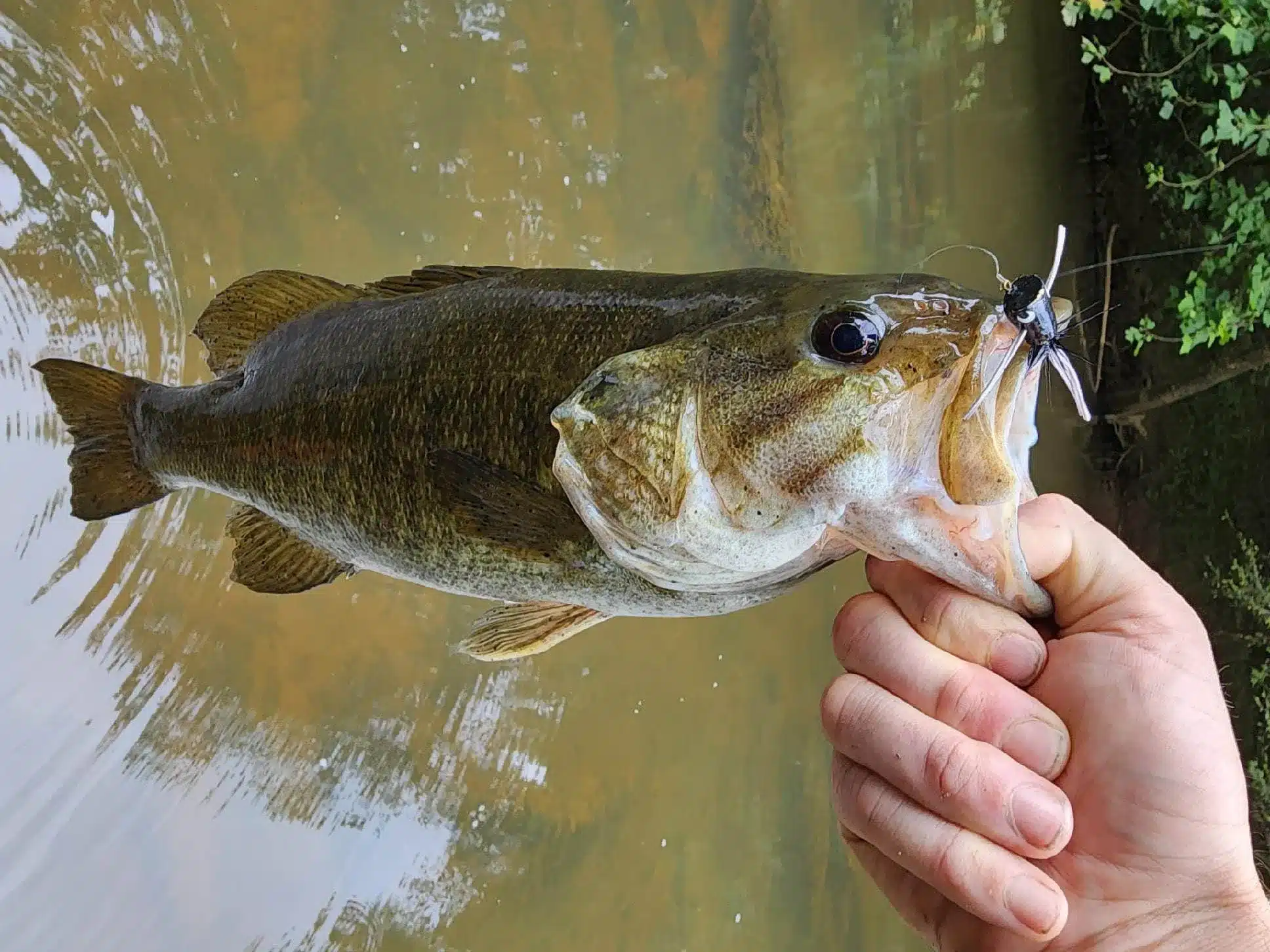 Nothing beats the feeling of a smallmouth bass tugging on a line while wading through the beautiful Uwharrie River in central North Carolina. Making the river more accessible for anglers makes that possibility even more of a reality. To that end, Fly Fishers International has awarded Three Rivers Land Trust a grant of $3,000 to assist in the creation of a new kayak and canoe launch on N.C. Highway 49 in Randolph County.
Expanding public access to the Uwharrie River has long been a focus of Three Rivers Land Trust (TRLT). TRLT makes a portion of their property available for paddlers to access the Uwharrie River at the NC Wildlife Resources Commission launch off Low Water Bridge Road. The surrounding property (1,400 acres) is owned by TRLT and provides more than five miles of river frontage framed by protected hardwood forest for paddlers and anglers to enjoy. Downstream of the Low Water Bridge Launch, TRLT plays a key role in facilitating the construction of two additional launches, one at N.C. Highway 109 and one at the Uwharrie River Gamelands.
This undeveloped access on N.C. 49 will be upstream of all three of these existing accesses which will eventually provide a 10-minute drive from nearby Asheboro. When developed this access will be for launching canoes and kayaks and it is an approximately 4-mile float downstream to Waynick Meadow Road with roadside access to take out.
"We are so thankful to Fly Fishers International for their support of this important river access we are working to develop on Highway 49," states Associate Director Crystal Cockman. "As such a busy road with steep banks down to the river there is not currently any way to physically access the river here, and we're so excited to work to develop a way for folks to enjoy this stretch of this beautiful river."
Patrick Berry, president and CEO of Fly Fishers International, said, "People tend to think fly fishing is limited to trout. But hooking a smallmouth bass on a fly, like those in the Uwharrie, can be a thrilling ride. In developing this new access, Three Rivers Land Trust is helping support FFI's mission to provide fly fishing opportunities for all fish in all waters."
Other contributors to this river access development include a grant from REI (Recreational Equipment, Inc.) and other private donors and foundations. TRLT is still in the fundraising phase of this project and you can visit our website at www.trlt.org to check on the status of this access development.
To learn more about how to support TRLT in its conservation mission, contact Emily Callicutt, TRLT Land Protection Specialist, at 704-647-0302 or emily@trlt.org.
About Three Rivers Land Trust
Three Rivers Land Trust works with private landowners and public agencies to conserve the most important natural areas, scenic rivers, family farms, and historic places in a 15-county region of the central Piedmont and Sandhills. Since 1995, The Land Trust has worked to offer reasonable and attractive options to landowners who want to save their lands for future generations to enjoy. Our mission is to work thoughtfully and selectively with property owners, conserving land that is essential to our region. For more information about Three Rivers Land Trust, please contact the Land Trust at 704-647-0302 or amanda@trlt.org or visit their website at trlt.org.