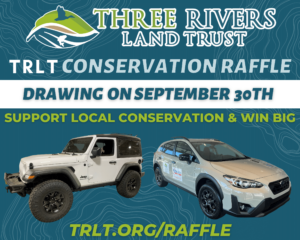 Last year, Three Rivers Land Trust (TRLT) held their inaugural TRLT Conservation Raffle, a fundraising event featuring outdoor related prizes to connect winners to the land that TRLT works to conserve. After a successful first event, this fundraiser benefitting the 15-county region that TRLT serves makes its return in 2023 with ticket sales opening to the public on Saturday, April 1st.
Included in the raffle prizes are a 2023 Jeep Wrangler, 2023 Subaru Crosstrek, various getaways to destinations including the Omni Grove Park and Nantahala Outdoor Center, John Deere Gator, Mathews bow, Sitka gear, Yeti coolers, boats, grills, and more. In total, the raffle features over 70 prizes valued at over $150,000, in addition to $1,000-$1,500 monthly cash giveaways. To see the full list of prizes, visit trlt.org/raffle.
"Last year was just the beginning for the TRLT Conservation Raffle and we are excited for it to return this year. We made some changes to this year's raffle including the addition of monthly drawings, and brought in some even better prizes," states TRLT Executive Director Travis Morehead. "Not only does this raffle feature incredible prizes, but more importantly, the funds generated by this raffle go directly to supporting the permanent conservation of our region's natural and historic resources."
Only 3,500 tickets will be sold for the 2023 TRLT Conservation Raffle, and with over 70 prizes, that makes chances of winning great! Tickets are $100 each and can be purchased online at trlt.org/raffle or by mail. Cash or checks can be mailed to the TRLT office at 204 E. Innes St, Suite 120, Salisbury, NC 28144.
There is also the option to purchase tickets in person at numerous locations including: the Three Rivers office (Salisbury), Strider Subaru (Asheboro), Quality Equipment (Albemarle), Great Outdoor Provision Co. (Winston Salem, Greensboro, Chapel Hill, and Charlotte), Grafton Archery (China Grove), Backcountry and Beyond (Salisbury), Rowan County Airport (Salisbury), Four Saints Brewing (Asheboro), James River Equipment (Asheboro), HWY 49 Sporting Goods (New London), Uwharrie Welcome Center (Troy), Denton Farm Park (Denton), Bait on 8 (New London), and Cape Fear Customs (Wilmington).