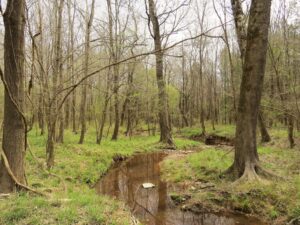 Located in Moore County is a 168 acre project known as the McLendons Creek Bottomlands, a significant project for Three Rivers Land Trust in their mission to conserve local lands. This property possesses over 10,000 feet of stream frontage on McLendons Creek and other tributaries. Of the 168 acres, 78.8 acres are designated as wetlands by the National Wetlands Inventory. With the natural significance of this property, Three Rivers Land Trust has put forth efforts to raise funds for the conservation of the property. Recently, with the generous grant award of $100,000 from the North American Wetlands Conservation Act (NAWCA), TRLT is one step closer to completing the project.
From the stream frontage to the wetlands on the property, the potential loss of these ecosystems has a direct impact on both migratory species and resident populations of wildlife. With current fundraising efforts, and this grant award from NAWCA and other organizations, TRLT aims to do their part in reversing habitat loss by permanently conserving this property. Some key species that would be protected here include the federally listed as endangered Cape Fear Shiner, the vulnerable Carolina Creekshell, American Black Duck, Mallard Duck, Wood Duck, Bald Eagle, American Woodcock, as well as white-tailed deer, wild turkey, and river otters.
"We are so grateful for this grant funding from USFWS," states Travis Morehead, TRLT Executive Director. "This is a major project that would not be possible without funding from grants like this as well as from other generous supporters of the Land Trust. This grant is nationally competitive, we are proud and thankful to be the only recipient from North Carolina."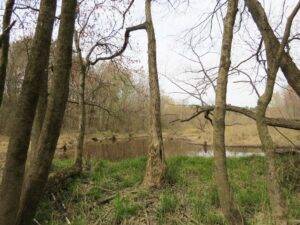 Crystal Cockman, TRLT Associate Director comments, "The McLendons Creek Bottomlands is a unique location, with diverse species across its entirety. This region is a focal area for protecting water quality, and this project will help carry that out as McLendons Creek is a tributary of the Deep River which is designated as a High Quality Watershed by the state of North Carolina. We are elated to receive this grant from NAWCA to help fund this project and protect the habitat through its conservation."
To learn more about how to conserve your own lands or how you can support Three Rivers Land Trust in their conservation mission, please contact Emily Callicutt, Land Protection Specialist at Three Rivers Land Trust by calling 704-647-0302 or by email at emily@trlt.org.